BS in Business Administration
Through the BS in Business Administration (BSB) degree, combine your business education with other areas of interest to create a customized degree plan. The unique features of the BSB will prepare you for a wide array of careers in a variety of business roles or for graduate school.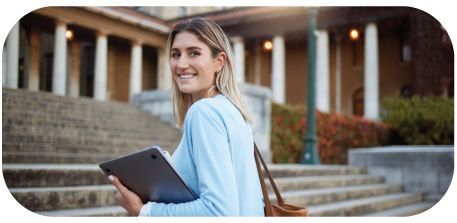 You will work with a team of dedicated advisors to build a degree plan that makes sense for you, your interests, and your goals. Your degree consists of three primary areas: core curriculum, business courses, and electives in your area of focus.
Degree Details
Credit Hours: 120
Class Type: In-Person
Location: College Station
Advising
All freshmen enter Mays majoring in Business Administration (BUAD).  Lower-level business students (freshmen and sophomores) receive advising from Undergraduate Advising.  They advise students which lower-level courses are needed to apply for upper division status and declare a major.
You will use 12-18 credit hours of your electives to create an "area of focus," which is a group of courses concentrated in one specialty area. An area of focus is required to earn your BSB degree. You may pursue your area of focus through a minor, certificate, or a set of BSB-approved courses.
The examples here are not your only options. Any university-approved minor or certificate will be accepted. A unique set of courses will also be accepted if approved by the BSB program. Work with your advisor to select the best option for you.
Most students will pursue an area of focus outside of business. A focus area in business is currently limited to International Business Studies, Internal Audit, and Banking Services.
Examples of Areas of Focus